Effective storage and storage of products is a very important issue for every modern entrepreneur.
Companies whose specificity of work requires storage of goods need a properly designed space for safe and economical storage. It is extremely important to choose the right size of the hall that will have a positive impact on the company's development. Together with the investor, we analyze and advise the most effective storage method tailored to the needs.
Every company, regardless of the type of produced, stored or sold goods, needs a place where they can store their goods safely, economically and in the right conditions. That is why properly designed and constructed warehouse halls with rack systems are so important. It should be remembered that their construction is not easy and you need to think carefully about the company's needs in this area.
To meet investors' expectations, our offer includes warehouse halls, commercial warehouses, warehouses, high storage halls and logistics centers.
Storage hall's
space
The basic parameter that you need to consider is the hall's space. It must be selected so that it provides the optimum amount of area for the goods storage, while taking into account their rational handling and transport. In this context, the choice of manner and technology of storage is important, which affects a number of decisions concerning the construction of the hall and its equipment.
In the phase of offer preparation, we choose appropriate solutions on the basis of information about the type of stored product and the manner of its storage. We also take into account other geometric parameters depending on whether it is storage on pallets (number of pallet positions) or on the storage shelves (type and number of shelves). Information about storage height and number of walkways is also important. Everything, of course, while maintaining the appropriate proportions of the main hall dimensions.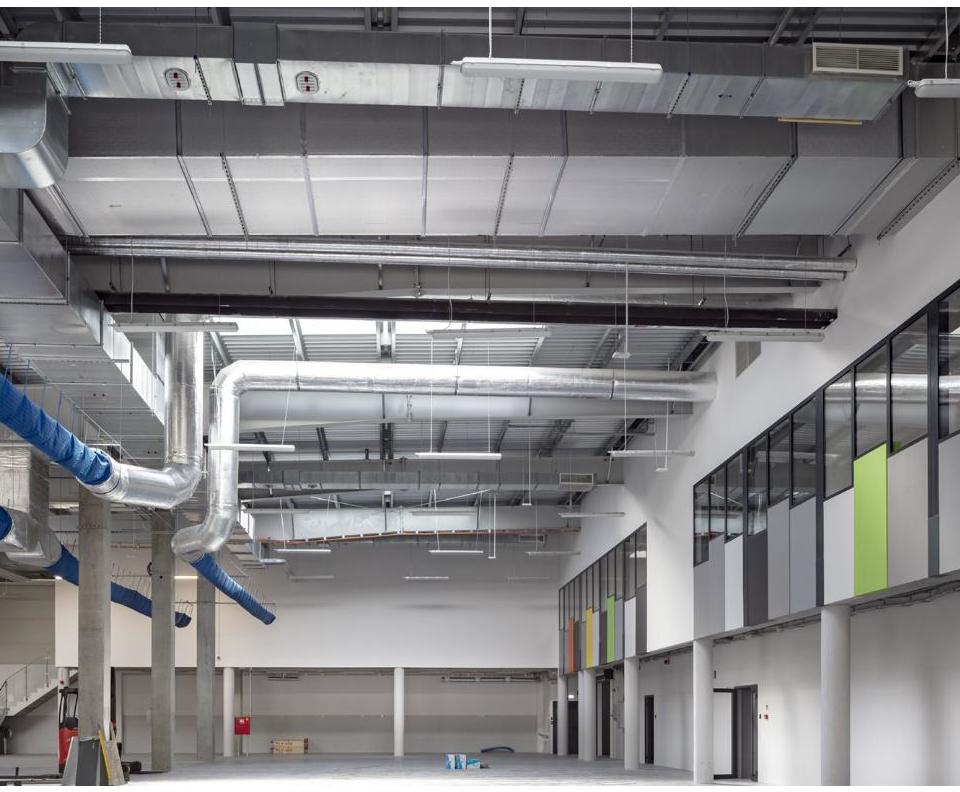 Optimisation
of support structure
Secondly, we optimise the support structure, which means that we select the appropriate type of walls and roof, the number of gates, docks and doors.
We also assist in the selection of appropriate solutions in terms of:
hall's fire protection (protections for steel structures, active and passive fire protection devices, firewalls)
ventilation and heating of the facility (to ensure appropriate heating and humidity conditions)
proper storage area lighting (transport routes lighting, skylights, windows)
We have an individual approach towards every project and we try to meet the highest requirements. We encourage you to contact with our experts.
As early as at the beginning of the cooperation with the Investor, we analyse and discuss details of the planned construction. The offer created by us is always adjusted individually to the needs and expectations of the Client.
The designs prepared by us are complex – they take into account both the internal and external structure of the facility. The prepared drafts include, among others, the shape and dimensions of the building, as well as any related items, such as a roof, doors or windows.
One of our priorities is to ensure functionality and reliability the facilities constructed by us. While designing the halls, we take into account the impact of weather conditions, plumbing and heating systems' layout as well as fire protection elements.
We provide practical solutions affecting the smooth internal transport and inexpensive facility operation. We invest only in the best and proven methods of implementation. In order to create the structure, we use only high-grade construction materials.
We have qualified construction teams, thanks to whom, at each stage of the investment implementation, we provide the highest quality and performance of services. We are able to build a medium-sized storage hall within three months, which confirms an excellent organisation of our work of material supplies.
We are a company with excellently developed organisational and technical facilities, that allows us to provide services in terms of assembly works.
While providing a comprehensive range of services, we have specialised assembly crews as well as modern equipment – scissor carts, telescopic handlers, multifunctional machines and suction cups for casing assembly.
We assembly the storage halls by merging together single assemblies – foundations, columns, girders, purlins, etc. Next, the casing and roof of the hall are assembled as well as any rooms and internal partitions.
Selection of a suitable crane in storage halls plays a key role in the construction of steel surfaces. The crane's functionality is affected by many factors, including weight, spacing, its type or purpose.
Advanced fire alarm systems allow to minimise the time of notifying the fire brigade about an occurred fire risk, giving on opportunity to take immediate rescue action.